Kami is a brand new slave girl to enter the realms of Shadow Slaves. The young slave girl had a wish to encounter a genuine day of slavery, pain and submission. She was in good hands, had a new world of pleasure and pain opened to her and discovered the joy of subspace for the very first time.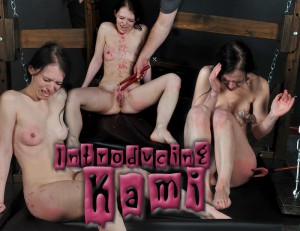 The nineteen year old slavegirl Kami entered for her "Introducing Kami to BDSM" movie. From the beginning she is clearly nervous about the experience ahead, but the fear is soon turned to arousal as her submissive nature is pulled out by the dominant master carefully pushing her further and further with harder and harder punishments to gently push her into subspace.
The Kami movie is far from the hardest or cruelest Shadow Slaves movie, but it is still one of the very interesting ones – as you get to see a slave girl take her very first steps into BDSM – a first journey full of fear, pain and limits being pushed but ultimately pleasure as well.